Singing Fruit – Makeymakey at The Foyer
Makeymakey board at the Sheffield Foyer
As an introduction to the Othello Unbound project, young people got a chance to play with fruit and a makeymakey device. Destinations Arts set up a digital tech workshop for residents at the Sheffield Foyer a housing initiative for homeless young people.
Word soon went around the building that people were pressing fruit and making music. Numbers grew from a few interested people to a large group crowding around the device. Residents took turns unplugging and reconnecting the makeymakey, rearranging fruit, trying different fruit, holding the earth cable and changing sounds the fruit triggered. It was getting so popular that at this point Foyer staff joined in!
A few residents even recorded their voices and got the makeymakey to trigger playback.
If you've not used a makeymakey before it's a little circuit board a little bigger than a credit card with input holes for croc-clip ended wires. You connect one end to the board input and the other into something conductive, i.e., fruit! You then connect a USB cable from the device to your computer and voila you have a new input device that will trigger an event on your computer.
To make this all work you need to do a bit of coding. The makeymakey triggers a software instrument, the coding which was completed in Scratch, a fun programming environment developed by MIT lifelong learning programme.
Caption: Musical Fruit engages Makeymakey at Sheffield Foyer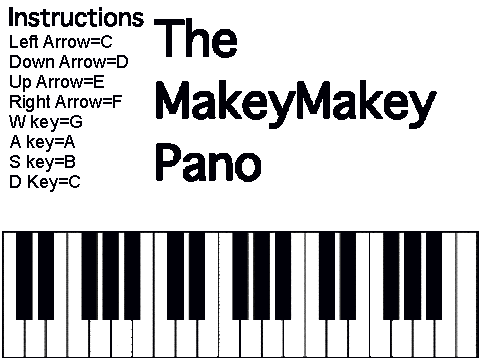 You can check out the makeymakey board yourself and have a go at coding with Scratch. With version 2 of Scratch you can now do this online.
This was the first session held at Sheffield Foyer. and the feedback has been fantastic. One resident said; "when Andy told me I didn't believe him – musical fruit, I had to check it out for myself! No way!"
This activity was part of the Othello Unbound project, which creatively explores Shakespeare's Othello and gives young people in difficult circumstances creative opportunities! These sessions, delivered in partnership with Foyer staff, aimed to help vulnerable young people in the shelter develop motivation, self-confidence and increase life choices by offering training and inspirational activities.
The Othello Unbound project is supported by Sheffield Hallam University and funded by Arts Council England using public money and is delivered by Destinations Arts, a creative initiative that uses digital arts to engage and hard to reach communities in creative activities.